How about you search for a baking paper or a corkscrew in the kitchen and very easily find it? Looks like a difficult task to many but this is the most desirable and well-organized modular kitchen which is trending these days! Family-friendly kitchens are the demand today.
With advancement in the hardware and easy to maintain finishes, kitchens are truly becoming a focused and thriving industry in itself.
Gone are the days when your guests waited in the living room and kitchen was restricted largely to the ladies of the house. This generation lives in an open house space where less is more!
Here's a quick look at latest trends in modular kitchen design:
Ambient lighting
We have entered into an era where our homes are dominated by the Android. With all the hue-lights available and the launch of the Google Home, now, you can have a remote to almost every possible thing in our house, and, your kitchen! The year 2018 saw kitchen spaces filled with Android-controlled lights everywhere and users switching between modes of the lighting to transform the atmosphere of the kitchen. Also, lights like the traditional three pendant lights, puck lights like the spotlights, rope lights and concealed LED's made to the top slot in modular kitchen this year.
Kitchen Islands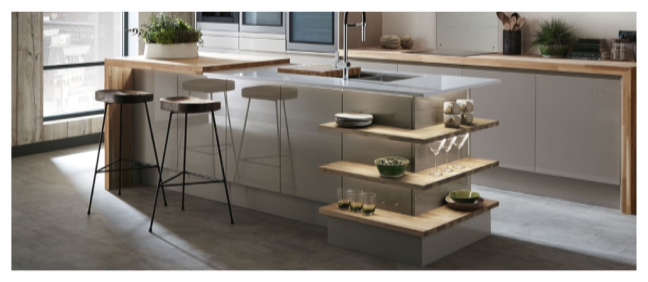 The 2019 modular kitchen is less about the walls and more about the space. The multi-function kitchen islands in the kitchen serve various purposes in the kitchen and yet look elegant. The modern kitchen islands also act as an extension of their kitchen to the living room to accommodate more people or even act as a separator between the open house living room and the modular kitchen at the same time. Kitchen islands are also great during parties as it avoids the ruckus of bringing the food from the kitchen again and again – A perfect nook for the morning breakfast, to just chill out with family and start your day energetically.
Trending tiles
Courtesy – Pinterest

Courtesy – Pinterest

Courtesy – Pinterest
With ink jet technology, porcelain tiles are changing the industry by applying Stone, Concrete and even wooden feel to your flooring. Large wooden planks are going to continue strong in 2019. Choose a 6-8 inch wide and 24-48 inch long plank for creating desired patterns like herringbone or Chevron. Also, the ever green subway tiles are still popular and loved for dado areas. Stack them or lay them in a running bond style; they are here to stay! Warm and even cool grey are taking over the beige. They instantly turn your kitchen modern from a classic one.
If you are bohemian at heart, simply go for cement tiles to define your cooking space with beautiful patterns adding instant quirkiness to your home. 2018 saw a great revolution in Ceramic tiles in India with contemporary geometric patterns coming in.
Flooring can vivify your look instantly. It is important to plan your space beforehand as only one of your elements should shout loud, either the flooring or the cabinetry on the walls. A bright designed kitchen with patterned flooring is surely not a sight to see!
While wood looks will surely influence the market for next five years, rustic stone and concrete looks will also never go out of style
Playing quirky!

Image courtesy – Pinterest


Image courtesy – Pinterest

Image courtesy – Pinterest
White is not the new black and black is not just black these days. Users these days love to play with colors in their kitchen spaces to add some flavor to their culinary lives. From quirky lights to recycling old cabinets, users are experimenting with quirkiness everywhere. The wheel of color theory has taken a complete upside turn and there is a huge variety of alternates available for contrasting walls and lighting these days.
Lanky pull-outs
A surge in deep drawers and lanky pull outs has been witnessed in 2018 and so, the designers have come up with smart and beautiful ideas for sleek, deep and lanky pull outs that serve the storage purpose and yet look good. Storage is the major issue that made our generation shift from the traditional approach to today's modern modular kitchens, and the new modular kitchens show use of slender and effective pull outs that take less space but are very accommodating. Monthly storage of grain jars, storing cleaning tools like broom and dustpans or even your children's sports gear has never been more easy!
Year 2019 is seeing a surge in colors, use of ceramic to bring in the rugged, kitchen wine bars and a lot of quirkiness in modular kitchen designs. Well, it's time you lay your hands on the latest and give your kitchen space the much needed makeover.